| Overall Rating | 4.5/5.0 |
| --- | --- |
| Communication | |
| Matching System | |
| Mobile Usability | |
| Registration | |
| Support | |
| Terms And Conditions | |


Zoosk is the go-to place for quality dates with real people looking to find the person and relationship that's right for them. Available worldwide, this dating site and app has been matching singles all around the world in a fun, safe and easy way for 13 years. Zoosk - dating made fun, without the games.

Visit Zoosk Website >>
---
Zoosk Communication
| Overall Rating | |
| --- | --- |
| E-Mail | |
| Chat Functions | |
| Video Chat | |
Zoosk rates very highly in terms of available communication between users. Members are given the option to direct email message one another. Live chat is another feature available, allowing two users who are online at the same time to chat in real time. Zoosk gives members the option to video chat as well, strengthening to connections made between members. In general, Zoosk excels when it comes to the available means of communication between users.
---
Zoosk Matching System
| Overall Rating | |
| --- | --- |
| Personality Test | |
| Profile Matching | |
| Profile Visitors | |
| Block Users | |
Zoosk uses its unique, trademarked Behavioral Matchmaking technology to provide the best, most accurate possible matches for its members. Users participate in a personality test to determine who they are to be matched with. Profile matching is available, allowing users to browse through the profiles with which they matched up. Users on Zoosk can see which users visited their profiles and when. Zoosk gives users the option to block contact from certain users. In general, Zoosk has a matching system that excels in its significance.
---
Zoosk Search Features
| Overall Rating | |
| --- | --- |
| Picture Search | |
| Keyword Search | |
| Now-Online Search | |
| Search By Profile Criteria | |
| Show New Members | |
Zoosk has excellent search functions that make it very easy to operate their service. Users are given the option to search based on photo and various profile criteria. Users are also given the option to search for other users that are online at the same time. Zoosk doesn't allow users to search based on specific keywords, nor does it provide a search option strictly for new members. Overall, the search functions and capabilities on Zoosk are very good.
---
Zoosk Mobile Use
| Overall Rating | |
| --- | --- |
| Mobile Usability | |
| App Usability | |
| Android App | |
| iPhone App | |
Zoosk is a service that has exceptional mobile usability. Its app usability is very good as well, but could be improved in some places. Zoosk's app is available on both Android and iPhone, with users of both operating systems leaving satisfied, five-star reviews in their respective app stores. Overall, Zoosk's mobile usability is very good, save for a few bugs in the app.
---
Zoosk Usability
| Overall Rating | |
| --- | --- |
| Login with Facebook | |
| Ease Of Registration | |
| Ease Of Use | |
Registering for and using Zoosk's service are incredibly easy. Zoosk offers quick signup using one's Facebook account, making the process speedier than ever before. Registration is a simple and enjoyable process. Setting up an account on Zoosk can be done in a very short amount of time. Building a profile is simple and easy to do. Overall, Zoosk makes it very easy for potential members to sign up and build their profiles.
---
Zoosk Popularity
| Overall Rating | |
| --- | --- |
| Facebook | |
| Male/Female Ratio | 51/49 |
| Main Age Range | 25-45 |
Zoosk calls itself the "#1 social networking and online dating app," and its ratings and popularity back up this claim. There are a whopping 33 million registered users on this site, with a majority of them falling in the 20-40 age range, making it widely popular among Facebook users. Zoosk user profiles on the site are high quality and significantly detailed. In general, Zoosk is a very popular and highly rated service among its users.
---
Zoosk Support
| Overall Rating | |
| --- | --- |
| Support FAQ | |
| E-mail / Contact Form | |
| Phone | |
| Helpful Articles | |
| Forum | |
Zoosk offers some customer support for its users, but not much. On their website, they feature a set of frequently asked questions. There is also a contact form users can fill out, in case they had any concerns. Zoosk does not offer a direct customer service phone line. They do not keep up a blog on their web site, nor do they produce any type of original written content. They don't have a message board or forum feature on their web site either. In general, Zoosk's customer support is good, but not great.
---
Zoosk Terms And Conditions
| Overall Rating | |
| --- | --- |
| Free Offer | |
| Highest Price | 29.00 USD |
| Lowest Price | 12.00 USD |
| Free Trial Period | 0 |
| Monthly Plan | |
Zoosk's terms and conditions are very good. Zoosk offers an unlimited free plan for users, meaning they will never be forced to upgrade to a paid account. Zoosk does offer premium accounts at a reasonable pricing level. They offer a monthly subscription plan, with easy cancellation instructions. Zoosk has, in general, extremely fair terms for registering to use their service.
---
Zoosk Summary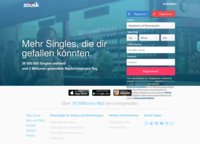 Zoosk is an innovative and very popular online dating site offering multiple ways to connect and interact with other singles all around the world. The platform uses its own behavioral technology to provide members with suitable matches based on their personality and preferences. For those who prefer to look for potential matches themselves, the Open Search function is sophisticated. Registering a profile is free and straightforward, and the website is fun and easy to use. Zoosk is also available as a mobile app, so can be used anywhere. Customer support is good, and their terms of service and pricing are fair. All in all, Zoosk is one of our clear favourites and we highly recommend it.